Come out and join our Alternative Energy Car Show during the Mother Earth News Fair at Seven Springs Mountain Resort, in Seven Springs, PA.

The address for the Seven Springs Mountain Resort is:
777 Waterwheel Drive, Seven Springs, PA 15622.



The event is scheduled for September 17, 18, and 19, 2021, but is subject to the rules and restrictions due to the ongoing Covid-19 pandemic.

Setup day is Thursday, September 16th from 10 AM-4:00 PM

Friday Fair hours: 12:00 PM-6:00 PM
Saturday Fair hours: 9:00 AM-6:00 PM
Sunday Fair hours: 9:00 AM-5:00 PM


Thinking about attending the East Coast Electric Vehicle Round Up at the Mother Earth News Fair in Seven Springs, PA? Reserve your hotel room or other overnight accommodations as soon as possible. You can always cancel your reservation if it turns out you can't come (check cancellation policies when you book). Most attendees stay at Hotels in Somerset, PA.

Round Up attendees are invited to join us for a group dinner each night after the fair closes. (Subject to change, due to Covid-19 restrictions.) Details will be emailed. Want to be included? Fill out our Event Form, Call to register 724-387-8210 or Email: info @ threeriverseva .org - just remove the three spaces in the email address before sending.

Don't want to eat with the group, but need ideas for dinner each night after the fair? Check out this map of Restaurants in Somerset, PA.

All those PRE-Registering for the event (submitting Event Form, calling or emailing) and bringing an Alternative Energy Vehicle or Electric Vehicle of any type (car, truck, bicycle, lawn tractor, etc) will receive 2 free passes to the Mother Earth News Fair. It is best that we know ahead of time that you are coming - so that we make sure that our contact at Mother Earth News Fair gives us the correct number of free passes.

Charging will be available for Round Up attendees at Seven Springs Mountain Resort. However, if you want to be able to charge - you MUST contact us BEFORE the show at our email address listed above. Or please take the time to answer the questions about charging on our Event Form.

Several regular 110 outlets will be provided. There will also be a few 220 outlets which will be set up with 50 Amp 14-50 style plugs. If anything else is needed, it must be arranged with Seven Springs Mountain Resort ahead of time. If you do not let us know what you need, you may not have what you need to charge your vehicle.


---


Mother Earth News Fair provides a Program Guide with a Map, Activity Schedule and Vendor List for the event in Seven Springs.

We are usually marked on the Fair Map in a blue box with the words "Alternative Energy Car Show".


---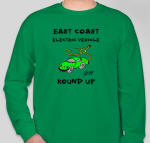 The 2019 event long sleeve shirt is pictured to the right.

Should we do shirts this year for the 10th Anniversary of the show? Come to a monthly Three Rivers EVA Meeting and give your input.



---
The 2020 show was canceled due to the Covid-19 Pandemic, so here are some pictures from 2019 East Coast Electric Vehicle Round Up: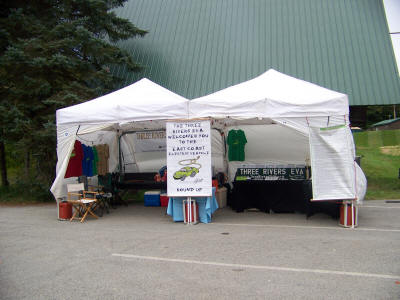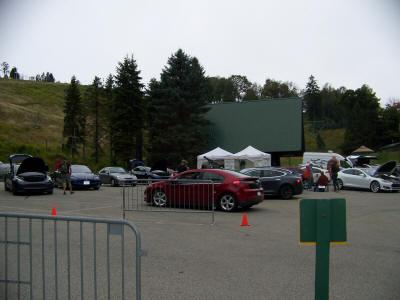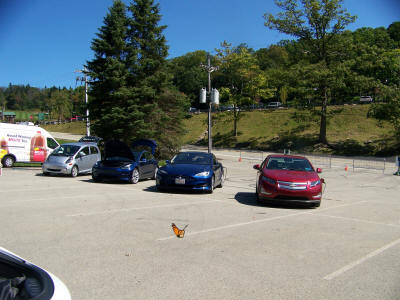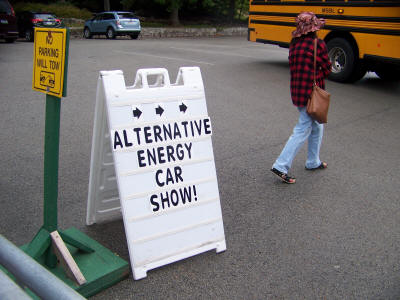 ---